Kentucky Mid-State Appaloosa Horse Club

Appaloosas For Sale

All Members: 

We have a for sale, foal announcement & links pages...

FREE advertising with membership. 

Please email your web site links, pictures & ad info to the webmaster at
trhall13@yahoo.com
or email for home address, should you need to snail mail the pictures.

PLEASE READ OUR LATEST NEWSLETTER FOR THE NEWEST FOR SALE LISTINGS!

I have up for your consideration a Registered Bay Leopard Appaloosa Stud Colt foaled March 2010. This guy is a GREAT colt he leads, loads, ties, stands for Ferrier (no feet issues at all), bathes, and moves off a light touch of pressure (ground work). I have placed a bareback pad on his back and cinched it he didn't pay attention to it at all; no weight has been applied to his back! Gets along great with my other geldings and has a very playful horsenality.  Should mature out at 15.1-2 hands.I have had him since he was a weanling with the intent to show him, I am a trail rider but thought I would try showing but was in an accident and didn't get to any shows this year and realize I would rather ride. I believe he will make a great riding horse but I am not someone to break out a horse.  So I am offering him up for sale or possible trade for a safe Registered Appaloosa gelding for trail riding and ACTHA competitive trails. I know the horse industry is not its best at this time so I am not looking to make a killing off of him but want him to have a GREAT home as he deserves it.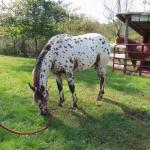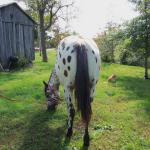 SEND US YOUR ADS!!!

trhall13@yahoo.com

Please put KY MID-STATE IN THE SUBJECT LINE!!!

< /div>